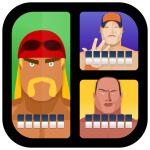 The only pro wrestling trivia app with a social, interactive game board. Track not only your own progress through over 40 levels and categories, but keep an eye on your fellow wrestling enthusiasts. Compare, help each other out, or have an all-out war to see who reaches the finish first. This amazing trivia game not only tests your knowledge of pro wrestling, but also brings back memories of old action figures, WrestleMania nights, and favorite wrestlers from every decade.
AshleyBrynn – "This quiz is addicting!!"
StephenEd – "…hard to put down."
Imlivinitup – "I like being able to play against my friends."
– The only pro wrestling trivia with an interactive game-board to track progress
– Track friend's progress with the social game-board
-Over 40 different levels keeps the game fresh and new
-40+ categories covers all era's and organizations of pro wrestling
-Remember your favorites and learn new ones
Whether you were of the generation of the Ultimate Warrior and Andre the Giant, or you've just become a fan recently, this app's for you. Hey, What's the Wrestler covers all categories, testing your knowledge, and helping you learn what you don't know yet. There's trivia for everyone, whether you watched WWF in the '80s or WWE and TNA today.
Have any questions, problems or feedback? Please feel free to reach out to us at support@kojackapps.com