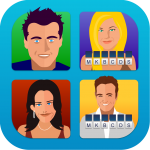 Try the app with a social, interactive game board. Track not only your own progress through 50 levels and categories, but keep an eye on your friends progress. Compare, help each other out, or have an all-out war to see who reaches the finish first.
MAIN FEATURES
– Name the TV Show the 4 actors shown were in
– Interactive game-board to track progress
– Track friend's progress with the social game-board
– 50 different levels keeps the game fresh and new
– 50 categories cover many different genres
– Remember your favorites and learn new ones
Hey! 4 Actors 1 Show covers all categories, testing your knowledge, and helping you learn about TV shows didn't know about yet. There's trivia for everyone.